The Loyalty Reward Points program allows you to earn points for certain actions you take on the site. Points are awarded based on making purchases and customer actions such as submitting reviews.
Benefits of Reward Points for Registered Customers
Once you register by creating an account you will be able to earn and accrue reward points, which are then redeemable at time of purchase towards the cost of your order. Rewards are an added bonus to your shopping experience on the site and just one of the ways we thank you for being a loyal customer. It is completely free to be a part of the our Loyalty Reward Points program. We want to be your one-stop-shop for all of your dealership supplies!
Earning Reward Points
Rewards can currently be earned for the following actions:
Making purchases — every time you make a purchase you earn points based on the price of products purchased and these points are added to your Reward Points balance. 100 Reward points = $1.00, $1.00 spent = 1 Reward points earned
Registering on the site, brand new Dealermarket.com customers only. 500 reward points ($5.00)
Converting Invitations to Customer — Earn points for every invitation you send out which leads to your friends registering on the site. 500 reward points ($5.00). Limit 10.
Converting Invitations to Order — Earn points for every invitation you send out which leads to a sale. 1000 reward points ($10.00). Limit 10.
Review Submission — Earn points for submitting product reviews. 500 reward points ($5.00). Limit 20.
Reward Points Exchange Rates
The value of reward points is determined by an exchange rate of both currency spent on products to points ($1.00 spent = 1 Reward points earned), and an exchange rate of points earned to currency for spending on future purchases (100 Reward points = $1.00). Dealermarket.com will also have special promotions where certain products or categories will be double or triple reward points, up to 10x reward points. Stay in the know by following our emails and social media posts!
Redeeming Reward Points
You can redeem your reward points at checkout towards your next purchase or you can redeem them for an e-gift card.
Towards Next Purchase
If you would like to redeem your reward points towards your next Dealermarket.com purchase, follow these steps. If you have accumulated enough points to redeem them you will have the option of using points as one of the payment methods. The option to use reward points, as well as your balance and the monetary equivalent this balance, will be shown to you in the Payment Method area of the checkout. Redeemable reward points can be used in conjunction with other payment methods such as credit cards, gift cards and more.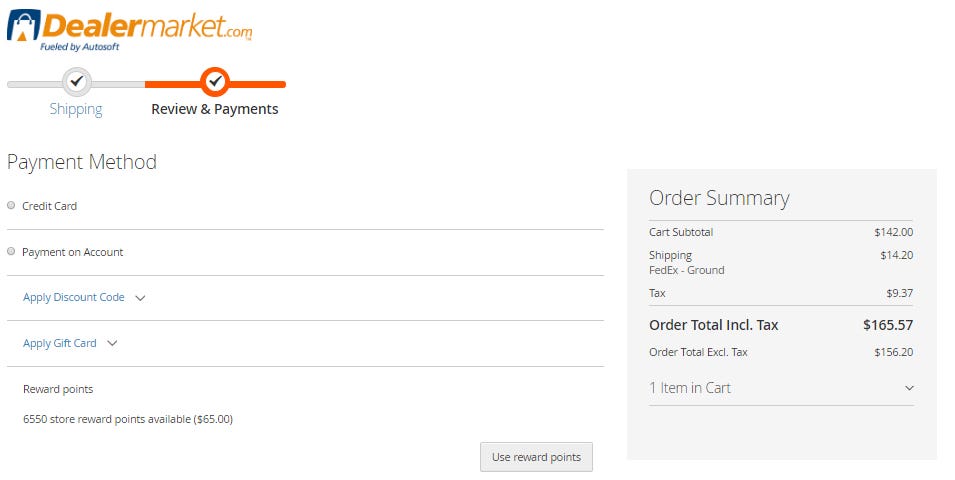 Towards e-Gift Card
We now offer you the ability to redeem your reward points to receive an e-gift card of your choice from our nation's top retail brands. We offer over 125 retail brands and 27 non-profit donation options when choosing your gift card. From your account dashboard, you can click on reward points to see your balance. To convert to an e-gift card simply put in the dollar amount you'd like to receive ($1.00 minimum) and the email address. Then click send. You'll then receive an email with a unique link that you can click to choose which brand e-gift card you would like. Simply follow the on-screen instructions and complete your order. Then you will receive a second email that contains the e-Gift card code to use upon checkout or apply to your account at your chosen retailer. Please note that you can convert $50 to an e-gift card and use that $50 to purchase (2) $25 gift cards or (5) $10 gift cards. It's that simple.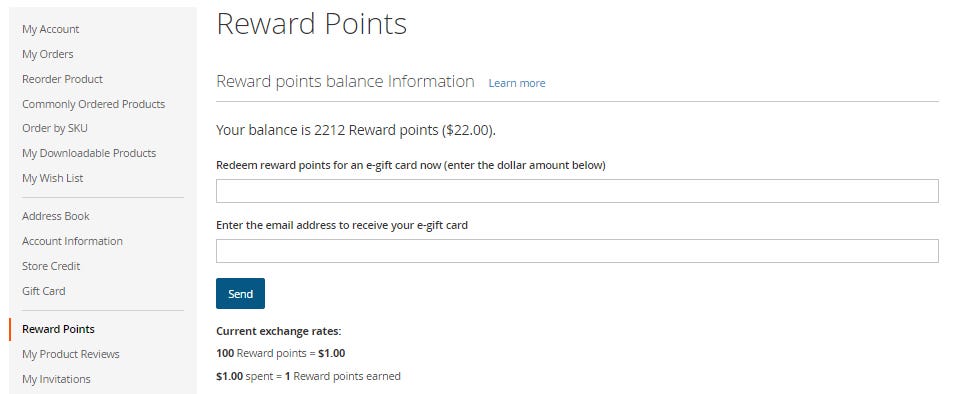 Here are a few of the gift card options you can choose from:
Amazon.com
WalMart
Target
Dunkin' Donuts
The Home Depot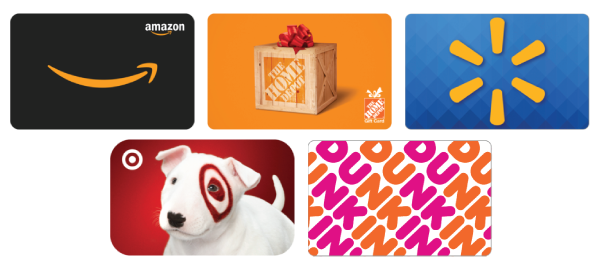 The merchants represented are not sponsors of the rewards or otherwise affiliated with this company. The logos and other identifying marks attached are trademarks of and owned by each represented company and/or its affiliates. Please visit each company's website for additional terms and conditions.
Reward Points Minimums and Maximums
Dealermarket requires you to earn a minimum of 100 points before you can redeem them but has no maximum thresh-hold.
Managing My Reward Points
You have the ability to view and manage your points through your Customer Account. From your account you will be able to view your total points (and currency equivalent), minimum needed to redeem, whether you have reached the maximum points limit and a cumulative history of points acquired, redeemed and lost. The history record will retain and display historical rates and currency for informational purposes. The history will also show you comprehensive informational messages regarding points, including expiration notifications.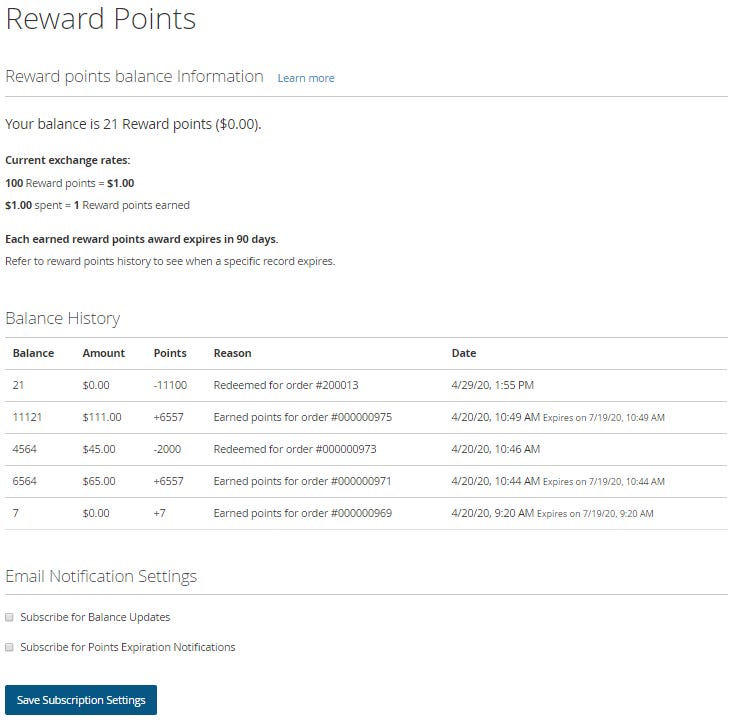 Reward Points Expiration
Reward points expire 90 days from your last purchase.
Note: You can sign up to receive email notifications each time your balance changes when you either earn, redeem or lose points, as well as point expiration notifications. You will receive an email 14 days before your points expire if you opted in to receive this email notification. This option is found in the Reward Points section of the Account Dashboard area.